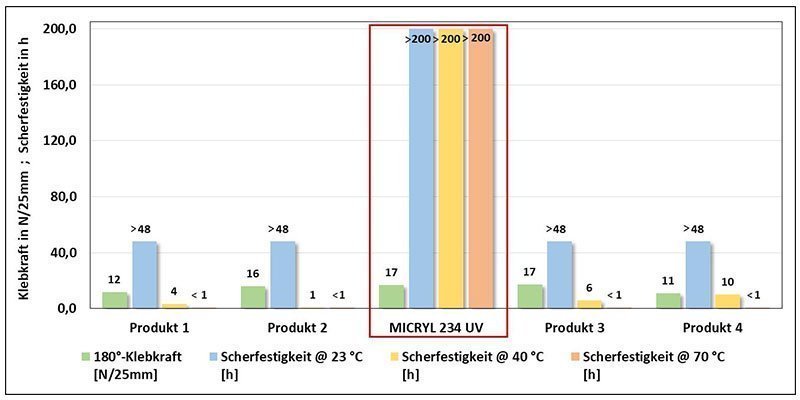 21.Aug.2018 New UV hotmelt for high-performance applications
The large variety of hotmelts available on the market offers the user the opportunity to find a suitable adhesive solution for almost any desired requirement profile. Nevertheless, there are always application areas in which, in particular, UV hotmelts are distinguished by limitations such as insufficient peel strength on conventional substrates (e.g. glass, steel) or a loss of shear strength at higher temperatures. Especially the latter is a decisive criterion in the performance of the hotmelts, as a permanent bond should be guaranteed not only at moderate temperatures, but also especially at application temperatures in the range of 30 - 70 °C.
POLY-CHEM has managed the task to create a permanent acrylic-base adhesive whose performance is equal to a solvent-based adhesive. Our new product MICRYL 234 UV is an environmentally friendly UV-curable Polyacrylate, working completely without any solvent.
To convince the user of the outstanding performance of the new POLY-CHEM MICRYL 234 UV we compared the peel (adhesion) and shear (cohesion) of MICRYL 234 UV with typical representatives of UV hotmelts (Product 1 – 4) available on the market.
Product

180°-Peel adhesion

stainless steel

N/25mm

Shear strength

@ 23 °C, 1 kg

Shear strength

@ 40 °C, 1 kg

Shear strength

@ 70 °C, 1 kg

Product 1

11,7 (AF)

> 48,0 h

3,5 h

< 1 h

Product 2

16,1 (AF)

> 48,0 h

1,0 h

< 1 h

MICRYL 234 UV

17,0 (AF)

> 200,0 h

> 200,0 h

> 200 h

Product 3

17,0 (AF)

> 24,0 h

6,0 h

< 1 h

Product 4

10,9 (AF)

> 48,0 h

10,1 h

< 1 h
*AF = adhesive failure; Testing method: AFERA 4001, AFERA 4012.
The already existing POLY-CHEM hotmelt Product 1 exhibits a high shear strength at room temperature comparable to the values of competitive adhesives. Indeed, the shear values of the PSAs Product 1 – 4 decrease gradually with increasing temperature and finally, at 70 °C the remaining cohesion they have at this temperature is much lower than necessary anyway. The peel values of the tested competitive products are in a typical range.
Our new product MICRYL 234 UV exhibits an excellent peel adhesion in the range of 17 to 19 N/25mm. At this, the PSA shows an entire adhesion failure on stainless steel as well as on glass, even after the prepared test specimen were stored for several days at room temperature.
Characteristic for this pressure sensitive adhesive is beside the excellent peel adhesion the outstanding shear strength – and this not just at room temperature but also especially at higher temperatures (see graphic). Reproducible static shear strength values of more than 200 hours at 40 °C and even at 70 °C are beyond impressive.
To compare: typical products on the market with a shear strength of more than 48 hours at room temperature exhibit low peel values and a significantly lower cohesion at higher temperatures – and especially the latter one is the aspect hat definitely highlights our new MICRYL 234 UV.
A sophisticated balance of conspicuous peel adhesion and extremely high shear resistance opens up the way to use the new MICRYL 234 UV for applications in areas where existing classic hotmelt formulations fail due their limits in peel and shear.